Riyad Us-Saliheen (Gardens of the Righteous)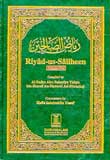 Chapter 329
Abomination of Self-Condemnation
1739. `Aishah (May Allah be pleased with her) said: The Prophet (PBUH) said, "None of you should say: `My soul has become evil.' He should say: `My soul is in bad shape.'''
[Al-Bukhari and Muslim].
Commentary:  Khabusatu and Laqisatu are synonymous but the former has appearance of greater sinfulness. Imam Al-Khattabi says that this is a guidance for speaking in a proper manner. One should always use a decent word and abstain from impolite language.