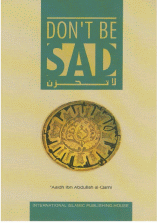 Don't be angry
(And if an evil whisper comes to you from Satan then seek refuge with Allah. Verily, He is All-Hearer; All-Knower? (Quran 7: 200)
The Prophet (Blessings and Peace be upon him) advised one of his Companions, saying,
"Don't be angry..."
-- He repeated this three times. And when a man became angry in his presence, the Prophet ordered him to seek refuge in Allah from the accursed Satan.
('And I seek refuge with You, My Lord! Lest they may attend [or come near] me.)      (Quran 23: 98)
(Verily those who are Al-Muttaqoon [the pious], when an evil thought comes to them from Satan, they remember [Allah], and [indeed] they then see [aright].(   (Quran 7: 201)
Anger is one of the factors that cause depression and sadness.
The following are some of the ways of controlling your anger:
Combat feelings of anger as if anger itself is your enemy.
(And those who repress anger and who pardon men; verily Allah loves the good-doers.(
(Quran 3: 134)
(And when they are angry they forgive.)  (Quran 42: 37)
(And when the anger of Moses was appeased, he took up the Tablets….) 
(Quran 7:I54)
Make ablution. Since anger is an ember of the fire, it can be extinguished by water.
If you are standing, sit; and if you are sitting, lie down.
When you are angry, remain silent.
Remind yourself of the rewards of those who repress their anger and of those who forgive.