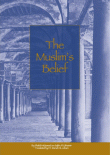 Author's Introduction

Praise be to the Lord of the universe who gives the best reward to the God-fearing and the great loss to the transgressor. I bear witness that there is no God but Allah; He has no partner and possesses real sovereignty. I bear witness that Muhammad is His servant and messenger; the seal of the prophets and the leader of the God-fearing. May Allah bless him, his family, his Companions, and those who follow them till the Day of Judgement.
Allah has sent His messenger Muhammad, peace be upon him, with the real guidance and the true religion as a mercy to mankind, as a model for those who do good, and as His argument against mankind. Through Muhammad and what was revealed to him (the Qur'an and the Prophetic sayings), Allah showed mankind all means of reforming itself and straightening its religious and mundane affairs in sound beliefs, right conduct, fine morals, and laudable manners. The Prophet, peace be upon him, "left his followers on a clear straight path, only the doomed will deviate from it" (Ibn Majah and Ahmad). His followers, the Companions, their followers, and those who followed them faithfully are the best of mankind. They established his law, upheld his way, and held fast to it as a belief and practice, a moral and manner. Thus "they are considered the party who are victorious, on the straight path, unharmed by those who are against them till the end of the world" (Bukhari and Muslim).
Thanks to Allah, we are following their footsteps and are being guided by their examples, which are supported by the Qur'an and the prophetic traditions. We are saying this only as an announcement of Allah's blessings and as a clarification of what every Muslim should believe. We pray to Allah that He may keep our brothers and us on the straight path in this life and in the hereafter. May He give us mercy, for He is the Giver.
Due to the importance of this topic and the difference of opinions about it, I want to explain briefly our creed-the belief of the Sunnites and the mainstream Muslims (Ahl as-Sunnah wa al-Jama'ah). This creed is the belief in Allah, His angels, His books, His messengers, the Day of Judgement, and fate, whether good or bad. I pray to Allah to make this effort sincere for His sake, in agreement with His wish, and useful for His people.