A program Of Studies For new Muslims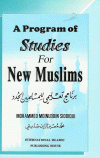 Introduction
In 1974, the Planning Committee of the Muslim Students' Association of the U. S. and Canada sparked the idea of designing a comprehensive curriculum for American Muslims who have recently embraced Islam. Such curriculum is greatly needed by a large population of Muslims in North America to help them understand Islam as a complete way of life, practice it and live up to its ideals. To satisfy this need, the task of producing the curriculum and its supportive material was entrusted to the Department of Education, Publication and Information. Through the efforts of that Department and the Islamic Teaching Center, Dr. Mohammad Moinuddin Siddiqui undertook to work out" A Program of Studies for New Muslims." His deep commitment to Islam and conviction of the significance of education as a crucial vehicle for social change prompted him to devote his time and finish the first stage of this tremendous and challenging work. The second stage is the writing of text books which are specifically tailored to the sequential level series of this program of studies.
The rapid growth of Islam among the people of North America is encouraging and, at the same time, challenging. The challenge lies with Muslims who must measure up to their responsibility of increasing the momentum of propagating Islam and effectively consolidating and strengthening their ranks. Only through developing the true Islamic personality, knowledgeable and committed, capable of taking initiative and broad-minded, can we meet the challenge. Education is the most effective process to accelerate the development of such an Islamic personality and to strengthen and consolidate the ranks of the Muslims. It is an activating force which will enable them to substitute actions based on truth and reality for actions rooted in imitation and outmoded traditions. Education is a central tool to bring about Islamic social change we want to see among Muslims in North America. This change can come only from the actions of the Muslims themselves. To act correctly, a Muslim must first acquire authentic knowledge, change his mode of thought and improve his practical ability. These changes must result from the Muslims' own decisions and efforts if they are to be educationally enduring, religiously sound, socially important and physically permanent. It is with this aim and intention that the Islamic Teaching Center has prepared "A Program of Studies for New Muslims" It is an attempt to enable the New Muslim to respond to his environment in North America equipped with an Islamic framework reflecting his beliefs, values, attitudes and behavior which characterize him as a new breed of men enjoining right, eradicating evil, forbidding wrong and believing in Allah.
We pray to Allah Ta' ala that this program may prove beneficial to our brothers and sisters who have recently embraced Islam. Yet it is also a good idea for all of us to use this program to increase our knowledge.
May Allah Ta' ala grant us success and keep us firm on His path.
Your brother in Islam
EITigani A. Abugideiri, Ph.D.
Director General
Islamic Teaching Center