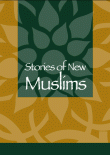 5.Ms. Jewellee 
I am a
new Muslim. I am writing to tell you 'why' I converted to Islam, but it's going
to be more like 'how.'
Last year, at the age of 23, I was trying to open
an import/export company to sell children's books overseas. Much thought went into
my decision to work with Saudi Arabia above any other country. After contacting
the Saudi Arabia Commercial Office at the Royal Embassy in Washington DC, I
learned that all contracts with my sponsor must be in Arabic to be binding.
That prompted me to study Arabic so I would know what I was signing. I went to
a local language school where I took classes with a private tutor named Suad.
She was one of the nicest people I ever met as well as one of the most
religious. All the books, tapes, and videos that I studied from centered on
Islam (Ifta Ya Sim Sim, etc.), so without realizing it I was learning about
Islam all along! I was not brought up with any religious indoctrination. I knew
the basics, but I had never gone to church.
The same time this was
going on, I was having the hardest time in my life. I was on the east coast and
my family was on the west coast, the friends I had were not acting like the
'quality' kind of people I knew I needed to hang around with, and I had really
difficult money problems (who doesn't). I was crying almost every day. I never
felt more alone in my life. It was affecting my job and my Arabic classes. Suad
noticed, and she was always there to listen. She gave the best advice
(Islamic), and she was always right. She told me that if I just submitted
myself to God completely, he would take away all the pain and loneliness I was
feeling. That was on a Thursday. That night, I asked God to help me, when I
woke up the next day I felt completely relieved of all my pain. I could say
"God will take care of it" out loud and mean it. I spent that weekend
talking to Suad about Islam and I learned that I knew more about Islam than I
thought! On Sunday I did my Shahada at an Islamic Women's Group meeting. The next Friday, January 20, 1995,
after the noon prayer, I did my open Shahada at the Masjid Dal Hijrah in Falls Church, Virginia. Ramadhan started shortly after that, and I went to Mecca for Umrah at the end of Ramadhan (last 10 days). It has been the best thing I ever did in my life and I
never looked back.
My experiences with
Islam have shown me that if you follow God's direction (awkward to call it law
because it's much more than that) you will have everything you need and often
what you want, enshallah. Faith in Allah is the best advantage anyone could
ever give themselves!