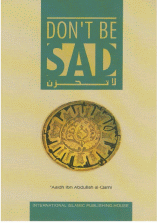 Publisher's Note
All praise is for Allah, the Exalted. May Allah's peace and blessings be on Muhammad, on his family, and on his Companions.
As a publisher of Islamic books, I am inundated with a spate of books that people think should be translated and published. The process of sifting through those books and choosing the best 0nes is a responsibility that a publisher cannot take lightly; for those are the books that English speaking Muslims will depend on to learn their Religion. Making a choice between those books is never easy, as there are many excellent Islamic books that have yet to be translated into English.
Choosing Don i be Sad, however, was an easy choice, not only because its subject matter is very relevant to our times, but also because the author deals with it very effectively. Shaykh 'Aaidh al- Qarnee delves into problems that both Muslims and non-Muslims suffer from, mentioning solutions, though, from an Islamic perspective. There are a surfeit of self-help programs and self-help books that try to deal with how to overcome depression or how to cope with problems or calamity — or even how to achieve happiness.
Those books and programs, however, are, for the most part, feeble attempts at dealing with these problems, because they don't get to the heart of the matter: faith in Allah. The ideas found in this book proceed from the premise that faith in Allah is necessary to solving any problem. Nevertheless, Don the Sad is not a work that is limited to Muslims, for any non-Muslim who reads it with an open mind will appreciate the author's ideas and thoughts, ideas that are based on the firm footing of revealed texts and thoughts that are penetrating and learned.
llPH, with a qualified staff of translators, is continually making efforts to publish quality books for the English reader. I sincerely hope that you, the reader, benefit from this book and that Allah, the Exalted, rewards its author and all those who helped bring it together. And may Allah's peace and blessings be upon our Prophet Muhammad, his family, his Companions, and the believers.
Muhammad ibn 'Abdul-Muhsin Al Tuwaijri
General Manager,
International Islamic Publishing House
Riyadh, Saudi Arabia