Animals In The Glorious Quran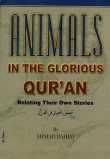 References
Religious References
Qasas al-Anbiya' Fi al-Qur'an. .Tafsir al-Qurtubi & al-Manar.
Scientific References
Goodwin, George, et. al., The Animal Kingdom.
Milville, Herman, Moby Dick.
Dr Silim, M. Sabir, Donya al-Hitan, translation of Roy Chapman's.
Dr Abu an-Nasr, Ahmad, Donya al-Hasharat, translation of L. Ferdinand's.
Dr' Abd al-Khaliq, A. Muhammad, 'Alam at-Tayr fi Misr.
Dr al-Husini, A. Harnmad, Suluk al-Hayawan.
Dr' Abd aI-' Alim, Anwar, Adwaf 'Ala Qa' al-Bahr.
Asad, Muhammad, At-Tariq fIla Makkah.