Face to Face : Masrur of Paradise & Maqrur of Fire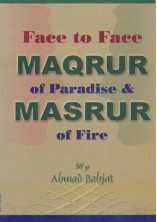 A new friendship
Maqrur and Pharaoh"s relative soon became friends. After a few moments of their acquaintance they were talking and laughing together. The Egyptian man was so amiable and Cultured. He acquired profound knowledge about the peoples' conditions and cultures.
Maqrur listened to the man's story with Pharaoh and then he asked him, "What did Pharaoh say when he heard what you had said?"
The believing man laughed and said, "Pharaoh looked at me with great anger and he said, 'I show you only that which I see correct, and I guide you only to the path of right policy.' Are not those the same words of the tyrants everywhere and at any time?"
Maqrur related to his new friend his story with Masrur. Maqrur told his friend how Masrur used to call himself the great master and how he forced his people to worship him just as Pharaoh had done, when he told his people that he is their superior lord.
The two friends then went on talking and the Egyptian man said to Maqrur, "The magicians of Pharaoh arrived a few days ago and they live in palaces near here. I would like so much to introduce you to them. I am sure you will like their company."
Maqrur asked, "What magicians?"
The Egyptian believer said, "Oh, it seems that you lived in an era before ours. Well, those magicians were gathered by Pharaoh to make the magic of Musa of no effect but instead they Prostrated to Musa's God. As a result of this, Pharaoh killed them, cut their arms and legs and crucified them. He tore them into pieces, that was the apparent case. However, he did not know that by this action he sent them to Paradise and he himself to Hell-fire with his viziers and leaders of the soldiers. He thought himself a genius!"
Maqrur thought of his words and he said, "You are right. All the tyrants in the world were foolish and stubborn. They destroyed everything thinking they are doing a good thing. I wonder what those tyrants are doing now in Hell-fire. How can they bear its fire that is never extinguished?"
The Egyptian believer said, "Let us have a look at them without rejoicing at their misfortune. Look!"