Muhammed The Natural Successor To Christ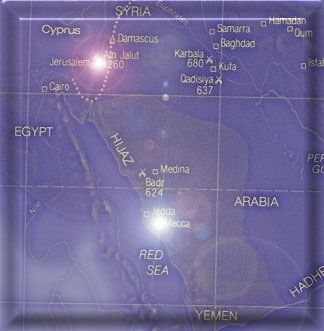 Muhammed, The Natural Successor To Christ --- By Ahmed Deedat
CHAPTER 5
Fulfilled Prophecies
And he will
show you things to come.
(HOLY BIBLE) John 16: 13
REFUGEE: ONLY FOR A WHILE
The Christians put great
weight on the fulfilment of prophecies. Muhummed (pbuh) fulfilled many
prophecies of the Old1 and the New Testaments. To
them, the prediction of events is considered to be the function of true
prophecy — true prophethood.
The Prophet of Islam uttered
many prophecies which are recorded for posterity in the Holy Qur'an.
Here are a few taken at random.
1. Verily. He Who (God Almighty) ordained the Qur'an for thee, (He) will bring thee back to the Place of Return...
(SURA QASAS) Holy Qur'an
28: 85
"Place of Return," is
a title of the Holy City of Makkah. During the Hijrat (Migration) when
the Holy Prophet was fleeing from Makkah to Madinah. It was a hopeless
situation. Most of his followers had already migrated to Madinah. Now
it was his turn. Together with Abu Bakr (as-Siddiq) he had reached a
place called Juhfa, when this assurance was given by God that once
again he will return to his birth-place Makkah, and so he did.
He migrated as a refugee and
God returns him as a conquerer, fulfilling yet another prophecy.2
And he (Moses) said, the Lord came from
Sinai, and rose from Seir unto them; he shined Forth from mount Paran (that is in Arabia), and
he (Muhummed) came with Ten Thousand Saints:3from his
right hand went a fiery law For them.
(HOLY
BIBLE) Deuteronomy 33: 2

1 You will finds some of these
prophecies expounded in – <!a href="??">"What the Bible
says about Muhummed (pbuh)"<!/a>.
2.
For a detailed exposition of this book read "Muhummed (pbuh) in the
Bible" by Abdul-Ahad Dawud; former Bishop of Uramiah.
3.
The Holy Prophet was accompanied by 10 000 SAHABAS (companions –
veritable saints) at the conquest of Makkah.
SUPER-POWERS: IN CONFLICT
2. The Roman Empire has been
defeated
In a land close by;
But they, (even) after (this)
Defeat of theirs, will soon be victorious —
Within a few years. With God is

the Decision,
In the Past and in the Future:
On that day shall the Believers
rejoice —
(SURA RUM) Holy
Qur'an 30: 2-4
The above prophecy was
revealed to the Holy Prophet Muhummed (pbuh) in the year 615/16 of the
Christian era. The Christian Empire of Rome had lost Jerusalem to the
Persians, and Christianity had been humbled in the dust. In this
holocaust between two of the Superpowers of the day, the Mushriks
(polytheists) of Makkah derived vicarious pleasure in the discomfiture
of the Romans by the pagan Persians.
"THE PAGAN ARABS NATURALLY
SIDED WITH THE PERSIANS IN THEIR DESTRUCTIVE ZEAL, AND THOUGHT THAT THE
DESTRUCTION OF THE CHRISTIAN POWER OF ROME WOULD ALSO MEAN A SETBACK TO
THE MESSAGE OF THE PROPHET, THE TRUE SUCCESSOR TO CHRIST. ... WHILE THE
WHOLE WORLD BELIEVED THAT THE ROMAN EMPIRE WAS BEING KILLED BY PERSIA,
IT WAS REVEALED TO HIM THAT THE PERSIAN VICTORY WAS SHORT-LIVED AND
THAT WITHIN A PERIOD OF A FEW YEARS THE ROMANS WOULD CONQUER AGAIN AND
DEAL A DEADLY BLOW AT THE PERSIANS."
Abdullah Yusuf Ali (Commentator
on the english translation of the Holy Quran)
Within ten years of the
revelation of this Divine prediction, the prophecy was fulfilled!
CHALLENGE OF THE
QUR'AN
3. The Holy Prophet claimed
that the Holy Qur'an was from God Almighty, and that it was revealed to
him by inspiration. The proof of its Divine authorship is its own
beauty and nature, and the circumstances in which it was promulgated.
To prove the veracity of his claim, he has placed before you many
Suras. Can the unbeliever produce one like it? This is a standing
challenge! An eternal prophecy of mankind's inability to equal or
excel, or to rival successfully any of its chapters.
Your plea, "I don't know
Arabic," is useless. There are millions of Christian Arabs living
today. The Christians boast that there are at least 10-15 million
Coptic Christians in Egypt alone and these are not all fellaheens.1 Here is the challenge of God
in His Own words —
(a) This Qur'an is not such as can be produced by other than
Allah.2
Holy Qur'an 10:37
(b) Say: "If the whole of mankind and Jinns were to gather
together to produce the like of this Qur'an, they could not produce the
like thereof, even if they backed up each other with help and support."
(SURA BANI ISRAIL) Holy
Qur'an 17: 88
(c) Or do they say. "He forged it"? Say: "Bring then a Sura like
unto it, and call (to your aid) anyone you can, besides Allah, if it be
that ye speak the truth!"
(SURA Y-UNUS) Holy Qur'an 10:38
(d) And
if ye are in doubt as to what We have revealed from time to time to Our
servant, then produce a Sura like thereunto;
And call your witnesses or helpers (if there are any) besides Allah. If
your (doubts) are true.
But if ye cannot — And of a surety ye cannot —
Then fear the Fire whose fuel is Men and Stones,— which is prepared for
those who reject Faith.
(SURA BAQARA) Holy Qur'an 2:23 24
It is now fourteen hundred
years since the above challenges, but mankind has singularly failed to
produce anything similar or something better. This is an Eternal
Testimony of the Divine Origin of the Holy Qur'an.
1. Fellaheen: A
peasant or agricultural labourer in Arab countries
2. Allah: A proper
noun for God Almighty in the Semitic languages. See "What is his name?"
which explains the word in detail
 CHRISTIAN ARABS HAD A TRY!
The Arab
Christians in the Middle East, not to be outwitted, launched a
sixteen-year project lately and produced selected portions of the New
Testament in Arabic, with a wholesale borrowing1 of words and phrases
verbatim from the Arabic Qur'an. It is an ignoble attempt! In this
un-ashamed plagiarism, every chapter of this new
Arabic New Testament of theirs begin with the First verse of the Holy
Qur'an —

In the
name of Allah, Most Gracious, Most Merciful.
(SURA FATIHA) Holy
Qur'an 1:1
Can you beat that?
There are many more
challenges and prophecies in the Holy Qur'an and in the Ahadith
(traditions of the Prophet) which can be expounded. It is a neglected
field. Perhaps books can be written on the subject. I trust that Muslim
scholars will take up the challenge. But let me end this theme of
prophecy with one last reference from Allah's Kalaam (the book
of God).
1. "He who goes borrowing,
goes a sorrowing!"
ISLAM TO PREVAIL
(e) It is He who
has sent His Messenger with Guidance and the Religion of Truth.
That he may proclaim it over all religion.
Even though the associators may detest (it).
(SURA SAFE) Holy Qur'an 61:9
Within decades the above
promise became true. Islam prevailed. The two superpowers of the day,
the Persian and the Roman Empires crumbled at the hands of the Muslims.
And for centuries the power of Islam predominated — from the Atlantic
to the Pacific.
Alas, the Muslims are in the
doldrums today. But fear not, the world of Islam is arising. There is
hope. Even non-Muslim Visionaries in the West have predicted its
destiny to be in the skies.
"AFRICA IS A FAIR FIELD FOR
ALL RELIGIONS, BUT THE RELIGION WHICH THE AFRICAN WILL ACCEPT, IS A
RELIGION WHICH BEST SUITS HIS NEEDS: AND THAT RELIGION, EVERYONE WHO
HAS A RIGHT TO SPEAK ON THE SUBJECT SAYS IS ISLAM."
"The Shape of Things to
Come" KG. Wells
"IF ANY RELIGION HAS A
CHANCE OF CONQUERING ENGLAND, NAY EUROPE WITHIN THE NEXT HUNDRED YEARS,
THAT RELIGION IS ISLAM."
George Bernard Shaw
Without any real effort on
the part of the Muslims, we are told by the Westerners themselves that
Islam is the fastest growing religion in the world today. I hope, this
pleasant news does not lull us to sleep. The promise of God is true,
the destiny is there, only a little exertion is required on our part.
Allah can transform nations and peoples by His Own Will, but He has
given us the privilege of serving His Deen by personal
self-sacrifice. To be an effective soldier in this battle, arm yourself
with John 16: 7 in one or more languages, and watch how Allah fills you
with more knowledge. It is our destiny to master, supercede and
bulldoze every ism, never mind how much the unbeliever may be
averse to the Message of Islam.
GLORIFYING JESUS
(PBUH)
He (the
Spirit of truth)1 shall Glorify
Me (Jesus): for he shall receive of mine, and shall shew it unto
you.
(HOLY BIBLE) John 16:13
But
when the Comforter is come, whom I will send unto you from the Father,
even the Spirit of truth, which proceedeth from the Father, he shall Testify
of Me.
(HOLY BIBLE) John 15:26
This promised Comforter,
even the Spirit of Truth in whom Truth is personified, when he
comes, will bear witness to the truthfulness of the Messiah and absolve
him from the calumnies of his enemies.
This Muhummed (pbuh), Al-Amin,
the Prophet of Truth, eminently succeeded in doing. He made it possible
that today, a thousand million Muslims believe in Jesus Christ
(pbuh) as one of the mightiest Messengers of God. They believe in his
miraculous birth, which many modem day Christians, even Bishops do not
believe. And they also believe in his many miracles, including those of
giving life to the dead by God's leave; and healing those born blind
and the lepers by God's leave. What a mighty testimony! Listen to
the moving terms of the story of his Annunciation:
1. The same John who supposedly
wrote this Gospel, says in 1 John 4:6 "We are of God: he that
knoweth God heareth us; he that is not of God heareth not us. Hereby
know we the spirit of truth from the spirit of error."
It is clearly shown here that, spirit of truth is articulated only
in reference to a human being (and in the context of this study, a
human prophet), not the Holy Spirit or Ghost. A spirit of truth would
be a true Prophet, and a spirit of error would be a false prophet. 
MIRACULOUS CONCEPTION
And mention in the Book, the
story of Mary, when she withdrew from her people to a place In the
East.
And she placed a screen to
screen herself from them;
Then we sent unto her Our
Spirit, that appeared to her as a man in all respects.
She said. "I take refuge in the
All-Merciful from you, If you fear Allah ..,"
He said, "I am but a messenger
come from your Lord, to announce to you the gift of a holy son."
She said, "How can I have a
son, seeing that no man has touched me, and I am not unchaste?"
He said, "Even so your Lord has
said:
'Easy is that for Me, and that
We may appoint him a sign unto men and a mercy from Us; it is a thing
decreed'."
So she conceived him, and withdrew with him to a distant place
...
(SURA MARYAM) Holy Qur'an 19: 16-22
At the present moment a
billion Muslims throughout the world accept the Immaculate Conception
of Jesus (pbuh) on the authority of Muhummed (pbuh) alone. Jesus
(pbuh), his mother Mary and the whole Christian world can never thank
Al-AMIN — the Spirit of Truth, enough.
JEWISH RESPONSE TO
JESUS
O
Jerusalem, Jerusalem, thou that killest the prophets, and stonest them
which are sent unto thee, how often would I (Jesus)
have
gathered thy children together, even as a hen gatheretb her chickens
under her wings, but ye would not let me!
(HOLY BIBLE) Matthew 23:37
That mighty Messenger of God
went after the Jews like a hen after her chickens, but they turned on
him like vultures to tear him into pieces. Not satisfied with their
relentless assaults and harassment and the eventual attempt on his life1; they charged his mother for
having ill-begotten him in sin.
That they (the Jews) rejected Faith;

and they uttered
against Mary a grave false charge.
(SURA NISAA) Holy Qur'an 4: 156
What was that
"grave false charge"? — The nearest to uttering
the actual calumny, Muhummed (pbuh) the true "Glorifier" of
Jesus (John 16: 13) is made to record.
"O sister of Aaron! thy father was not a man
of evil, nor thy mother a woman unchaste!"
(SURA MARYAM) Holy
Qur'an 19: 28
1.
For a
detailed record of how God foiled the Jewish plot on the life of the
Messiah, see "Crucifixion
or Cruci-fiction?"
WHAT SAY THE
TALMUDISTS
The Jewish charge of the
illegitimacy of Jesus (pbuh) and the adultery of Mary is referred to
here as an insinuation of the Jews, questioning Mary's chastity.
The Holy Qur'an does not stoop down to even reproducing the actual
monstrous slander. Now compare this Quranic terminology with what the
erudite and famous Rev. Dummelow, backed by no less than a team of
sixteen Christian divines, all Reverends and D.D.s; as to their choice
of words in recording the calumny of the enemies of Christ:
THE JEWISH TALMUD1STS SAID,
'THE SON OF THE ADULTERESS' (I.E. OF THE VIRGIN MARY) BROUGHT
MAGIC OUT OF EGYPT. BY CUTTINGS WHICH HE HAD MADE IN HIS FLESH.' 'JESUS
PRACTICED MAGIC AND DECEIVED. AND DROVE ISRAEL TO IDOLATORY.' IT IS
INTERESTING TO NOTICE THAT MAHOMET INDIGNANTLY REPUDIATED THESE JEWISH
CALUMNIES." (Emphasis added)
Dummefow's Bible
Commentary page 668
EVANGELIST DITTOS
JEWS
Josh Me Dowell. described as
a graduate of Wheaton College and magna cum laude graduate of Talbot
Theological Seminary, and who is reputed to have spoken to more than
Five million students and faculty at over 550 universities in 53
countries, seems to have done more research than the whole galaxy of
Biblical scholars mentioned above, on the subject of the Jewish Talmud
regarding the birth of his "Lord."
In his book — "Evidence
that Demands a Verdict," just to prove that Jesus (pbuh) was
not a myth but a historical person, he quotes extensively from the
Jewish Talmud without any inhibitions. I give you below a few brief
excerpts from pages 85/86 of his book.
"Tol'doth Yeshu. JESUS IS REFERRED TO AS 'BEN
PANDERA.' "1
Yeb.IV3;49a:
"R. SHIMEON BEN AZZAI SAID
(CONCERNING JESUS): 'I FOUND A GENEALOGICAL ROLL IN JERUSALEM WHEREIN
WAS RECORDED, SUCH-AN-ONE IS A BASTARD OF AN ADULTERESS.' "
Joseph Klausner adds to the above:
"CURRENT EDITIONS OF THE Mishnah,
ADD: TO SUPPORT THE WORDS OF R. YEHOSHUA' (WHO IN THE SAME Mishnah,
SAYS: WHAT IS A BASTARD? EVERYONE WHOSE PARENTS ARE LIABLE TO DEATH BY
THE BETH DIN). THAT JESUS IS HERE REFERRED TO SEEMS TO BE BEYOND
DOUBT..."
5/35
1. "BEN PANDERA:" Means – son of Pandera. A
Roman soldier alleged by the Jews to have raped Mary to produce her
illegitimate offspring. (God forbid!) May he forgive us for even
reproducing such blasphemies.
MISSIONARY LOLLS HIS
TONGUE
Josh McDowelL the great
evangelist, "born-again" Christian; worshipper of Christ, filled
with the Holy Ghost (?) lolls his tongue when quoting calumnies of the
enemies against his Lord and God — Jesus! And the Christian world laps
it up. His books are bestsellers in Christendom. A taste for Filth and
insults has been created in the votaries of Christ. I refuse to quote
further from that filthy narration. If Jesus (pbuh) has such devoted
friends (?). what need is there for him to have enemies.
Muhummed (pbuh) really was
the true Friend, the Comforter, the Helper, the Advocate, the
Glorifier, the Testifier of these prophecies in John chapters 14, 15
and 16. Let me repeat the ungrudging tribute of his enemies to this
Benefactor of Jesus (pbuh) his mother Mary and humanity at large:
"It is interesting to notice that Mahomet1 indignantly repudiated these
Jewish calumnies." (Rev. Dummelow and his associates).
1.
"Mahomet": It is a pity that scholars of Christianity of the
highest eminence still misspell the name of the Holy Prophet, even at
the end of the twentieth century.