Muhammed The Natural Successor To Christ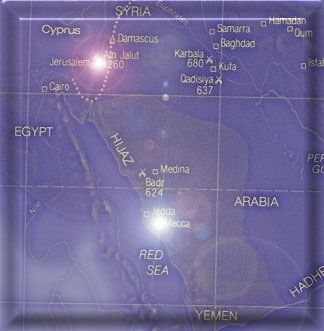 Muhammed, The Natural Successor To Christ --- By Ahmed Deedat
CHAPTER FOUR
Total Guidance!
"MANY" AND "ALL"
As promised, we will now
combine, "I have yet MANY things
to say unto you" from
verse twelve, with "he will
guide you into ALL truth." From John 16: 12 and
13.
If the Christian still
persists that the Spirit of Truth of this prophecy is the Holy Ghost
then ask him or her whether in their language does "MANY" means more
than one? Also if "ALL" in the above verse means more than one?
If you get a halting, wavering, hesitant "y-e-s" then close the
book. it is not worth pursuing dialogues with opinionated fools. But if
you get the answer "yes!" with alacrity then proceed ...
The one prophesied by Jesus
(pbuh) was to unravel many things which he had left unsaid, as
well as to guide humanity into all truth. There are many
problems facing mankind today, for which we are fumbling for answers.
Can you please give me one new thing that the alleged Holy Ghost gave
to anybody in the past two thousand years, which Jesus Christ had not
already given in so many different words? I don't want many, I'am
looking for just one!
NO SOLUTION FROM
HOLY GHOST
Believe me, in my forty
years of questioning. I have not come across a single Christian with a
single "new Truth" inspired by the Holy Ghost, yet the promise was that
the coming Comforter -"he will guide you into
all truth!" If the Spirit of Truth of this prophecy is the Holy
Ghost then every Church and denomination, and eveiy 'born-again'
Christian is claiming the gift of the Holy Ghost. The Roman Catholics
claim that they have the whole Truth because of the so-called
"in-dwelling" of the Holy Ghost. The Anglicans make the same claim, and
the Methodists, the Jehovah's Witnesses, the Seventh Day Adventists,
the Baptists, the Christadelphians. etc. etc. not forgetting the
'born-agains' who claim to be numbering over 70 million in the United
States alone.
You have the right
to demand solutions from them, on the authority of the Holy Ghost, for
the problems listed below:
1. Alcohol
2. Gambling
3. Fortune Telling
4. Idol Worship,
Devil Worship
5. Racism
6. Problem of
Surplus Women etc etc.
PROBLEM OF ALCOHOL
The Republic of South Africa
with a small "white"1 population of 4 million
among its total population of 30 million, has over 300,000 alcoholics. In
neighbouring Zambia. Kenneth Kaunda calls such people "drunkards!" It
is recorded that the "coloureds"2
in South
Africa have five times the amount of alcoholics as any other race in
the country. For the Indians and the Africans no statistics are available for
their respective drunkards.
Jimmy Swaggart the
televangelist records in his book "ALCOHOL" that the United States has
11 million alcoholics3 and 44 million "heavy
drinkers!", and he like a good
Muslim, goes on to say that he sees no difference between the two. To
him they are all drunkards! The rampant evil of drunkenness is
universal. The Holy Ghost has not yet made its pronouncement on this
evil through any Church. Christendom winks at drunkenness on three
flimsy pretences based on the Holy Bible.
1. Of European extraction.
2. A mixture between the Black
and White Races,
3. The Americans
euphemistically call them "Problem Drinkers."
(a) Give strong drink (hard liquor)
to him
who is perishing (one who is dying) And wine to those who are
bitter of heart.
Let him drink and forget his poverty. And remember his misery no more.
(HOLY
BIBLE) Proverbs 31:6-7

A very good
philosophy to keep the subject nations under subjugation, you will
agree.
HIS VERY FIRST
MIRACLE
(b) Jesus (pbuh) was no
"killjoy," the imbibers say, he turned water into wine in his very
first recorded miracle in the Bible:
Jesus
saith unto them. Fill the waterpots with water. And they filled them up
to the brim.
And
he saith unto them. Draw out now...
When
the ruler of the feast had tasted the water that was made wine ...
And saith ... (why) thou hast kept the
good wine until now.
(HOLY
BIBLE) John 2: 7-10

Since this
alleged miracle, wine continues to flow like water in Christendom.

SOBER ADVICE
(c) Saint Paul the
thirteenth self-appointed disciple of Christ, the real founder of
Christianity, advises his new convert protege — Timothy, born of a
Greek father and a Jewish mother:
Drink
no longer water, but use a little wine for thy stomach's sake and thine
often infirmities.
(HOLY BIBLE) 1
Timothy 5: 23
The Christians accept all
the Bible quotations on stimulating and intoxicating drinks given above
as the infallible word of God. They believe that the Holy Ghost
inspired the authors to pen such dangerous advices. Rev. Dummelow
seems to have some qualms about this verse. He says.
"IT TEACHES US THAT
IF THE BODY NEEDS THE STIMULANT OF WINE. IT IS RIGHT TO TAKE IT IN
MODERATION."
ABSTINENCE THE ONLY
ANSWER
There are thousands of
Christian priests who have been lured into alcoholism by sipping the
so-called mild wine in the Church rite of the Holy Communion. Islam is
the only religion on the face of the earth which prohibits intoxicants
in toto. The Holy Prophet (Spirit) Muhummed (pbuh) had said. "WHATEVER
INTOXICATES IN GREATER QUANTITY, IS FORBIDDEN EVEN IN SMALLER
QUANTITY." There is no excuse in the house of Islam for a nip or a tot.
The Kitab-al-Haq, the Book of Truth (Haq) one of the titles of the Holy
Qur'an condemned in the strongest terms not only the evil of alcohol
but also items 2, 3, and 4 namely "gambling." "fortune telling" and
"idol worship," with just a single stroke —
(SURA MAIDA) Holy Qur'an 5:93
When this verse was
revealed, wine barrels were emptied in the streets of Madinah, never to
be refilled. This simple straightforward directive has created of the
Muslim Ummah (religious community) the biggest society of teetotaller1 in the world.
1. Teetotaller: A person who
abstains completely from all alcoholic drinks.
U.S.A. FAILS WITH
"PROHIBITION"
The question arises, how is
it that this Spirit of Truth — the Holy Prophet Muhummed (pbuh)
succeeded with one verse whereas mighty America with the brain power of
the nation and the money power of the Government, supported by its
powerful propaganda machinery failed with "Prohibition," 1 the law outlawing alcohol?
Who coerced the American
nation to enact prohibition? Which Arab nation threatened this mighty
power with if you do not prohibit alcohol in your country. We will not
supply you with oil? Not the Arabs as there was no such thing as oil as
a "POLITICAL INSTRUMENT" in the hands of the Arabs during the twenties
to egg the United States. It was an intellectual awareness among the
American (founding) fathers, based on study and statistics which
brought them to the conclusion that intoxicants must be banned. They
failed, notwithstanding the fact that the overwhelming majority of the
nation was Christian, and that it was they who had voted their
Congressmen into power. It is rightly said that that which comes from
the brain (intellectually) tickles the brain, but that which comes from
the heart and soul of a man, will move the heart. The verse just quoted
above from the Holy Qur'an on prohibition, had and has the power for
change; we will allow Thomas Carlyle to reveal the source of that
power:
"IF A BOOK COME FROM THE
HEART. IT WILL CONTRIVE TO REACH OTHER HEARTS; ALL ART AND AUTHORCRAFT
ARE SMALL AMOUNT TO THAT. ONE WOULD SAY THE PRIMARY CHARACTER OF THE
KORAN IS THIS OF ITS GENUINENESS, OF ITS BEING A BONA-FIDE BOOK."
1.
Prohibition: The era from
1920 to 1933 in which the sale, trade and consumption of alcohol was
outlawed in the United States as a result of a long campaign by church
groups, women's organizations, temperance societies and the Anti-Saloon
league. It sparked off bootlegging, which gave a strong financial arm
to organized crime. Congress repealed the Act in 1933, after strong
public opinion dismay at its failure. These were also the years in
which the infamous Al-Capone made his first debut.
HIGH SPIRITUALITY -
A SOURCE OF POWER
All the beautiful thoughts,
words and expressions, never mind how artistically constructed, remain
like ringing bells or clanking cymbals unless they are backed up by a
powerful personality charged with high spirituality. And that type of
super spirituality comes only as Jesus (pbuh) put it through "fasting and prayer" (Matthew 17: 21).
Muhummed (pbuh) practised
what he preached. After his demise someone asked his dear wife Ayesha
Siddiqa about the life-style of her husband. She said. "He was the
Qur'an in action." He was the walking Qur'an. He was the talking
Qur'an. He was the living Qur'an.
"IF THESE MEN AND WOMEN,
NOBLE, INTELLIGENT, AND CERTAINLY NOT LESS EDUCATED THAN THE FISHERMEN
OF GALILEE, HAD PERCEIVED THE SLIGHTEST SIGN OF EARTHLINESS, DECEPTION,
OR WANT OF FAITH IN THE TEACHER HIMSELF, MOHAMMED'S HOPES OF MORAL
REGENERATION AND SOCIAL REFORM WOULD ALL HAVE BEEN CRUMBLED TO DUST IN
A MOMENT."
"Spirit of Islam" by Sayed
Amir Ali, page 21
CRITIC'S HERO
If it is said that these are
the words of a devoted Believer about his beloved, then let us hear
what a sympathetic Christian critic had to say about HIS "Hero
Prophet!"
"A POOR, HARD-TOILING,
ILL-PROVIDED MAN; CARELESS OF WHAT VULGAR MEN TOIL FOR. NOT A BAD MAN,
I SHOULD SAY; SOMETHING BETTER IN HIM THAN HUNGER OF ANY SORT, — OR
THESE WILD ARAB MEN, FIGHTING AND JOSTLING THREE-AND-TWENTY YEARS AT
HIS HAND, IN CLOSE CONTACT WITH HIM ALWAYS, WOULD NOT HAVE REVERENCED
HIM SO!
"... THEY CALLED HIM
PROPHET, YOU SAY? WHY, HE STOOD THERE FACE TO FACE WITH THEM; BARE. NOT
ENSHRINED IN ANY MYSTERY; VISIBLY CLOUTING HIS OWN CLOAK, COBBLING HIS
OWN SHOES; FIGHTING, COUNSELLING, ORDERING IN THE MIDST OF THEM: THEY
MUST HAVE SEEN WHAT KIND OF A MAN HE WAS, LET HIM BE CALLED WHAT YOU
LIKE! NO EMPEROR WITH HIS TIARAS WAS OBEYED AS THIS MAN IN A CLOAK OF
HIS OWN CLOUTING. DURING THREE-AND-TWENTY YEARS OF ROUGH ACUTAL TRIAL I
FIND SOMETHING OF A VERITABLE HERO NECESSARY FOR THAT, OF ITSELF."
"Hero and Hero-worship" by
Thomas Carlyle, page 93
PROBLEM OF RACISM
... For
he (the Spirit of Truth) will guide you into all truth!
(HOLY BIBLE) John 16:13

NOT WITHOUT A SYSTEM

It is very easy for the
followers of any religion to talk glibly about "THE FATHERHOOD OF GOD
AND THE BROTHERHOOD OF MAN" but how is this beautiful idea to be
implemented? How to devise a system to bring mankind into a single
brotherhood? Five times a day, every Muslim is obligated to gather
together at the local mosque to strengthen himself spiritually. The
black and the white; the rich and the poor; people of different
nationalities, of varying hues are made to rub shoulders in the daily
Salaat, the Muslim at Prayer. Once a week, that is on Fridays, he has
to congregate at the cathedral Mosque (the Jaame Musjid) for a wider
gathering from the surrounding districts. And twice a year during the
two Eids at still a larger venue, preferably in the open air, for a
vaster communion. A-n-d, at least once in a life-time at the Kaaba, the
Central Mosque in Makkah, for an international gathering; where one can
witness the blonde-haired Turk, the Ethiopian, the Chinese, the Indian,
the American and the African, all get levelled-up in the same pilgrim's
garb of two unsewn sheets. Where is there such a great leveller in the
religious rites of other faiths?
The infallible precept as
enunciated in the Book of God is that the only standard recognised by
God is on the basis of one's conduct, one's behaviour towards one's
fellow human beings and not because of one's race or riches. These are
the only true bases on which the "Kingdom of God" can be established.
All this does not mean that the Muslim is immaculate, that he is
altogether free from this sickness of racism, but you will find the
Muslim the least racist of all the religious groupings strutting the
world today.
PROBLEM OF SURPLUS
WOMEN
Nature seems to be at war
with mankind. It appears that it wants to take revenge for his
cleverness. Man will not listen to the healthy, practical solution to
his problems, which a Beneficial, Benevolent Providence offers him. So
it says. "go simmer in your SOUP!" (in a manner of speaking).
It is an accepted fact that
at birth the ratio of male and female is about equal everywhere. But in
child mortality more males die than females. Amazing! The "weaker sex"?
At any given time there are more widows in the world than widowers.
Every civilized nation has a surplus of women. Great Britain, 4
million. Germany, 5 million. Soviet Russia 7 million, etc. But a
solution acceptable to the problem of the mighty United States of
America, will be a solution acceptable to nations everywhere. The
statistics of this most sophisticated nation on earth is more readily
verifiable.
AMERICA, O AMERICA!
We learn that the U.S.A. has
a surplus of 7.8 million women. It means that if every man in America
got married, there would still be 7 800 000 women left over, women who
would be unable to get their share of a husband. One thing we do know,
and that is that every man will never get married for so many different
reasons. Man gets cold feet and finds many excuses. A woman, even if
frigid, would not mind getting married. She would marry, even if it is
just for shelter and protection.
But the American problem of
surplus women is compounded. Ninety-eight percent of its prison
population is male. Then they have 25 million sodomites.
Euphemistically they call them "gays" a once beautiful word meaning —
happy and joyous — now perverted!
America does everything in a
big way. She produces everything mighty. Mighty in promoting God and
also mighty in promoting the Devil. Let us for once, join the mighty
televangelist (now fallen) Jimmy Swaggart, in his prayer. In his
well-researched book - "HOMOSEXUALITY." he cries,
"AMERICA - GOD WILL JUDGE
YOU (meaning that God will destroy you), FOR IF HE DOES NOT JUDGE YOU
(destroy you). HE (God) MIGHT HAVE TO APOLOGIZE TO SODOM AND GOMORRAH"
for their hasty, utter destruction because of their practice of
homosexuality or their wanton gratification of unnatural lust.
NEW YORK AS AN
EXAMPLE
The City of New York has one
million more women than men. Even if the total male population in this
city mustered enough courage to unite with the opposite sex in
matrimony; there would still remain 1 000 000 women without husbands.
But to make things worse, it
is reputed that one third of the male population in this city is "gay"
(homosexuals/sodomites). The Jews, a very vociferous lot in every
controversy, remain quiet as mice, for fear of being labelled backward
Easterners. The Church, with their millions of born again votaries
claiming to be the dwelling houses of the Holy Ghost, are also silent
on this topic.
The founders of the Mormon
Church. Joseph Smith and Brigham Young, claiming a new revelation in
1830 preached and practiced unlimited polygamy to solve the problem of
surplus women. The present day prophets of Mormonism1 have abrogated the teaching
of their Church fathers to placate American prejudice on the subject of
polygamy. What is the poor American/Western/European surplus women to
do? They have literally gone to the dogs.2
1.
The Mormons believe in an unbroken chain of living prophets in
their church.
2. Consult "The life of the
American Female," by Dr. Alfred Kinsey and the latest on the subject by
Masters and Johnson
ONLY SOLUTION -
RESTRICTED AND REGULATED POLYGAMY
Al-Amin, the Prophet of
Truth, the Spirit of Truth, under inspiration of God supplies the
solution to their unfortunate plight. God ordains —
 ... Marry
women of your choice, two, or three, or four;
But if you fear that you will
not be able to deal justly
(with them)
Then (marry) only one ...
(SURA WSAA) Holy
Qur'an 4: 3
The Western world feigns
tolerance towards the millions of sodomites and lesbians in their
midst. It is a joking matter in the West for a man to keep a dozen
mistresses, and beget a dozen bastard1 children every year. Such
lecherous creatures are proudly labelled as "studs."2 "Let him sow his wild oats,
but don't hold him responsible!" says the West
Islam says: "make man
responsible for his pleasures." There is a type of man who is prepared
to take on extra responsibility, and there is a type of woman who is
prepared to share a husband. Why place obstacles in their way? You mock
at (polygamy). which was practised by the prophets of God as recorded
in the Holy Bible, you forget that Solomon The Wise had a thousand
wives and concubines as recorded in the Good Book (1 King 11:3), a
healthy solution to your momentous problem, and yet smugly wink at the
gratification of unnatural lusts by sodomites and lesbians! What a
perversion? Polygamy was practised by the Jews and the pagans in the
time of Jesus (pbuh). He did not say a single word against it. Not his
fault. The Jews gave him no peace to propound solutions. His was a
natural cry, "when he the Spirit of Truth is came, he will guide you
into All truth" (John
16:13).
1. Bastard: is
Biblical. The Holy Bible has used it three times: Deut. 23:2, Zech. 9:6
and Heb.12:8
2. Stud: A slang used for a man considered to be excessively virile.
The term usually reserved for animal husbandry.

COMFORTER TO BE A MAN

If I take the liberty of
quoting the prophecy under discussion, with an emphasis on the
pronouns, you will agree without any persuasion that the coming
Comforter was to be a man and not a ghost.
Howbeit
when He, the Spirit of Truth, is
come. . He
will guide you into all
truth:
for He shall not speak of Himself; but whatsoever He shall hear, that shall
He speak:
and He will show you things to
come.
(HOLY BIBLE) John
16: 13
Please count the number of He's
in the above verse. There are s-e-v-e-n! Seven masculine pronouns in a
single verse! There is not another verse in the 66 books of the
Protestant Bible or in the 73 Books of the Catholic Bible with seven
masculine pronouns, or seven feminine pronouns, or with seven neuter
genders. You will agree that so many masculine pronouns in one verse
ill befits a Ghost, holy or not!
NON-STOP
INTERPOLATIONS
When this point of the seven
masculine pronouns in a single verse of the Bible was mooted by the
Muslims in India in their debates with the Christian missionaries, the
Urdu version of the Bible had the pronouns presently changed to SHE.
SHE. SHE! so that the Muslims could not claim that this prophecy
referred to Muhummed (pbuh) — a man! This Christian chicanery;
deception I have seen in the Urdu Bible myself. This is a common
trickery by the missionaries, more specially in the vernacular. The
very latest ruse I have stumbled across is in the Afrikaans Bible, on
the very verse under discussion; they have changed the word "Trooster"
(Comforter), to "Voorspraak" (Mediator), and interpolated the phrase —
"die Heilige Gees" — meaning THE HOLY GHOST, which phrase no Bible
Scholar has ever dared to interpolate into any of the multifarious
English Versions. No not even the Jehovah's Witnesses. 1 This is how the Christians
manufacture God's word!2
1. Jehovah's
Witnesses: A Christian sect which has contrived its own
Bible translation.
2. See <!a href="??">"Is the Bible
Gods
Word?"<!/a> and learn how the Chrisitan has been interpolating his
own prejudices in a book he claims to be from God.
NINE MASCULINE
PRONOUNS
The only other place an
author has unknowingly used so many masculine pronouns for this mighty
Messenger Muhummed (pbuh) is given below:
"HIS GENTLE DISPOSITION, HIS
AUSTERITY OF CONDUCT, THE SEVERE PURITY OF HIS LIFE, HIS SCRUPULOUS
REFINEMENT, HIS EVER-READY HELPFULNESS TOWARDS THE POOR AND THE WEAK,
HIS NOBLE SENSE OF HONOUR, HIS UNFLINCHING FIDELITY, HIS STERN SENSE OF
DUTY HAD WON HIM, AMONG HIS COMPATRIOTS. THE HIGH AND ENVIABLE
DESIGNATION OF AL-AM1N, THE TRUSTY."
"Spirit of Islam,"
by Sayed Amir Ali. page 14
"AL-AMIN," the Faithful, the
Trustworthy, "even the Spirit of Truth" (John 14: 17). This expression
is a figurative way of saying that SPEAKING TRUTH would be so
characteristic of him that people would regard him as TRUTH
PERSONIFIED: exactly as Jesus (pbuh) said about himself, "I am the way, the truth and the life . . ." (John
14: 6), that these noble qualities are personified in me. Follow me!
But "when he the Spirit of
truth, is come, he will guide you into all truth" (John 16: 13). then you must follow him!
But prejudices die hard, therefore we must work harder. But believe me,
with the laser truth that Allah has given us, we can change the world
with only a fraction of the energy that the Christian is expending.
SOURCE OF REVELATION

Howbeit
when he, the Spirit of truth, is come, he will guide you into all
truth! For He Shall Not
Speak
From Himself But Whatsoever He Shall Hear, That Shall He Speak.
(HOLY BIBLE) John
16:13
I have consistently been
using the King James Version in my Biblical quotations, but for greater
clarity, I give below, alternate rendering from some different versions
of the above emphasised sentence:
1. for he will
not speak on his Own
Authority,
But will tell only what he hears.
The New English Bible
2. He will not speak On His Own; He will
Speak
Only What He Hears.
New International Version
3. for he will not be presenting His Own Ideas,
But
He Will Be Passing On To You What He Has Heard.
The Living Bible
This "Spirit of Truth,"
this Prophet of Truth. "Al-Amin.' will not be speaking
spiritual truths on his own impulse, but he will speak on the same
basis as his previous Comforter — Jesus (pbuh) had spoken:
For
I speak not from myself; but the Father that sent me, he hath given me
the commandment, what I should say, and what I should speak.
.,.
even as the Father hath saith unto me, so I speak.
(HOLY BIBLE) John
12: 49-50
In an identical
manner God Almighty testifies His revelation to His Messenger Muhummed
(pbuh).
Nor does He say (aught) of (His own)
desire.
It is no less than, inspiration sent down
to Him.
He was taught
by one mighty in power. 1
(SURA NAJM) Holy
Qur'an 53; 3-5
This is how God communicated
with all His chosen Messengers, whether Abraham, Moses or Jesus.2 It would be absurd to think that this
"Spirit of Truth" is the Holy Ghost, because we are told that "he will
not speak from himself, but what he hears," surely not from himself?
1. All Quranic Commentators
understand this role to refer to the archangel Gabriel. Call him the
"Holy Ghost" if you like.
2. 
Luke 1:70: "And he spake by the
mouth of his holy prophets, which have been since the world began."
Acts 1:16:       .."This
scripture must needs have been fulfilled , which the Holy Ghost spake
by the mouth of David concerning Judas."
Luke 12:12: " For the Holy Ghost shall
teach you in the same hour what ye ought to say."
GOD - A TRINITY?
It is universally accepted
in Christendom, all orthodox Christians who believe in what they call
the Holy Trinity; that the Father is God, the son is God and the Holy
Ghost is God, but they are not three Gods but one God. (?) Let an
erudite Christian theologian, like the Rev. Dummelow tell us of this
indivisibility, indisolubility of the Christian's "triune" God.
Commenting on "We will come" of John 14: 23 he says —
WHERE THE SON IS, THERE OF
NECESSITY IS THE FATHER ALSO, AS WELL AS THE SPIRIT, FOR THE THREE ARE
ONE, BEING DIFFERENT FORMS OF THE SUBSISTENCE AND MANIFESTATION OF THE
SAME DIVINE BEING. THIS PASSAGE ILLUSTRATES THAT THE PERSONS OF THE
HOLY TRINITY ARE INSEPARABLE, AND CONTAIN ONE ANOTHER.
Please don't worry. You are
not really expected to understand the above verbiage. In short the
Christian believes that the "THREE" (I beg your pardon, the Christian
says, "ONE!"), all the three are supposed to be Omnipresent and
Omniscient and as such leads us to an amusing and ridiculous
conclusion. Jesus (pbuh) according to the Christians agonized on the
cross at Calvary. Being "inseparable," the Father and the Holy Ghost
also must have agonized with the Son, and when he died, the other two
died with him! Little wonder we hear the cry in the West — "God is
Dead!" Don't laugh. All this imposes on us a more sombre responsibility
of extricating our Christian brethren from the spiritual quagmire into
which they are wallowing.