Face to Face : Masrur of Paradise & Maqrur of Fire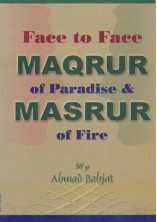 ©, All rights reserved. No part of this publication may be reproduced, stored in a retrieval system, or transmitted in any form or by any means, electronic, mechanical, photocopying, recording or otherwise, without written permission from the publishers.
Islamic INC.

Publishing & distribution

8, as-sayeda zainab sq.

Cairo – Egypt

Fax: 3913475

Tel: 3911961 – 3900572

Post. No 1636

دار التوزيع

والنشر الإسلامية

8 ميدان السيدة زينب

القاهرة – مصر

فاكس: 3931475

ت: 3911961 – 3900572

ص.ب 1636
Translated, Edited, and Prepared by:
Al-Falah Foundation .
24 Tayaran st. Nasr city, Cairo, Egypt
Tel./ Fax: (202) 2622838
website: www.faiahonline.com
E-mail: info@falahonline.com