Face to Face : Masrur of Paradise & Maqrur of Fire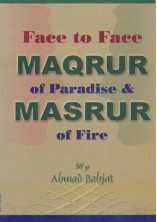 Preface
No doubt, that literature plays an important role in formulating our culture as well as our understanding. But the most important task that should be undertook by the men of letters is to teach good morals and to bring to light the real essence of religion through their works.
Through the talent of the author, one can live out the reality of an imaginative experience to get its wisdom. That is what we will witness here in our meticulous work of art.
The events of the present story take place in both the worldly life and the Hereafter. The writer begins with a kind of conflict between good and evil that occurred in this worldly life. Masrur,
Who sought tyranny in the land by the abuse of his authority, exercised oppression against Maqrur who sacrificed his life in Allah's Cause. The temporary victory of Masrur ended with his death. Then the writer takes us into the realities of the Unseen World of the Hereafter to witness the real victory of good over evil.
Really, it is a great story that inspires wisdom to some and admonishes others.
Ahmad Bahjat, the author, managed with his touching words, emotional description and charming imagination to lead us through this journey to reach a conclusion that in spite of the tremendous efforts exerted by the tyrants to achieve some kind of supremacy at the very near end they discover the fallacy of their triumph. This world belongs to the Almighty Allah, the All-Powerful and the Omnipotent.
We would like to thank Islamic INC for giving us the opportunity to translate this work and present it to our dear English-speaking readers. Admittingly, translation is an intricate task that requires precision and effort. We have endeavored to the best of our ability to produce this precious work, but Perfection is only Divine.
Due to the usage of certain terms and the nature of the subject as well as the nature of the Arabic language, the translation in hand is not literal. The translators have exerted their utmost efforts to make the text presentable and legible. On various occasions they have amended the Arabic text; by way of paraphrasing, rearranging and summarizing. Their aim is to present the essence of the story and convey its wisdom.
We would like to thank Al-Falah Staff Members, particularly, the translators team; Nirvan Tal`at, Ahmad M. Hasan, and Huda Abbas for their efforts in translating this work. Thanks should also be extended to Said Fares for revising the work. Great appreciation is due to Umm Faruq Cook and Sarah Merhtens, our editors, under their guidance and supervision the subject matter took form.
Finally, all praise and thanks are due to Allah, without Whose Help and Guidance nothing can be accomplished.
Al-falah Director
Muhammad `Abdu