Face to Face : Masrur of Paradise & Maqrur of Fire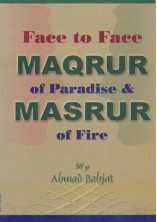 Introduction
Many years ago, in my column in Al-Ahram newspaper, I wrote a series that I called, "A non-story".
This story takes place in the Afterlife and its title was "Masrur and Maqrur".
Masrur was a ruler who was an unbeliever, whereas Maqrur was a true believer who sacrificed himself in the path of Faith.
In the story I traced the footsteps of their lives to the gates of Hell-fire and Paradise.
Many thinkers, writers and poets of different cultures have sought to explain man's journey from this worldly life to the Afterlife. This was a prominent theme in ancient Greek literature but has been clearly and truthfully portrayed in Islamic literature. It was greatly and deeply expressed by Abu al-Ala' al-Ma`arri in Risalat al- Ghufran.
As I dealt with this interesting subject, I depended upon the books of Tafsir (Exegesis) and three books relating to the same subject. These books are:
*At-Tawahhum of Al-Harith al-Muhasabi
*Scenes of the Other World in the Ever-Glorious Qur'an of Sayyed Qutb
*The Beauty of the Ever-Glorious Qur'an of Sayyed Qutb.
Ar-Tawahhum is a work of creativity, innovation and originality. Al-Muhasabi used his imagination to express the various stages of man from his death until his entrance to either
Paradise or Hell-fire.
The same kind of work was attempted in our time by Sayyed Qutb, who handled the same subject in two books. The difference between At-Tawahhum and Scenes 0f the Other World in the Ever-Glorious Qur'an is the difference between the time of Al-Muhasabi and that of Qutb.
Now let's enter the Other World through these pages.
                                                Ahmad Gahgat