Crucifixion Or Cruci-Fiction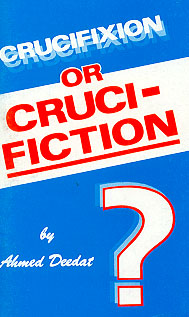 CHAPTER
2
CALL YOUR WITNESSES
HIGH-PRESSURE SALESMANSHIP
In trying to prove their dogmas 1, they
invent shocking statements and posers — one of which has been used as
the title of this book — "CHRIST CRUCIFIED - Hoax or History?" 2 No doubt it
sounds provocative; but it is a borrowed title — from the Christian's
own extravagances; from his own vocabulary.
Garner Ted Armstrong, the Executive Vice-President
and Co-Publisher of the "PLAIN TRUTH" (a Christian Magazine from
America, which boasts a current, FREE, world-wide circulation of 6
million copies a month) 3, attempts to answer his own puzzle under the heading:
"WAS THE RESURRECTION A HOAX?" This is the
typical American way of selling religion. He elucidates his poser
-"HOAX?" - with the words, "THE RESURRECTION OF JESUS CHRIST OF
NAZARETH IS EITHER THE SUPREME FACT OF HISTORY OR A FLAGRANT.
DELIBERATE FABRICATION FOISTED OFF ON THE FOLLOWERS OF
CHRISTIANITY."
Another budding, young "Billy Graham" from America,
Josh McDowell effuses in his book "THE RESURRECTION FACTOR",
saying, "I WAS FORCED TO THE CONCLUSION THAT THE RESURRECTION OF JESUS
CHRIST IS EITHER ONE OF THE MOST WICKED, HEARTLESS, VICIOUS, HOAXES
EVER FOISTED UPON THE MINDS OF MEN, OR IT IS THE MOST FANTASTIC FACT OF
HISTORY." Since it is not possible for an Oriental to match American
superlatives and extravagant verbiage, I do not have to apologise for
humbly borrowing their words for the title of my book: "CHRIST
CRUCIFIED -Hoax or History?" 4
1. Dogma:
"Principle, tenet, doctrinal system; arrogant declaration of opinion."
— Oxford Dictionary.
2.
Original title of this book.
3. As
claimed in their February 1984 issue.
4. Now
changed to — "CRUCIFIXION or CRUCI-FICTION?"
CHRISTIAN OBJECTION
To the Muslim belief that Jesus Christ was "neither killed nor crucified", the Christian objects,
"how can a man (Muhummed pbuh) a thousand miles away from the scene of
a happening, and 600 years after an event, pronounce as to what had
transpired?" The Muslim says that the words Muhummed (pbuh) uttered
were not his own, but that the Words were "put into his mouth" by the
All-Knowing, All-Seeing God. The Christian retorts that he is not
prepared to accept the metaphysical aspect of Muhummed's revelation;
moreso, in view of the written records by "eye-witnesses" (?) and
"ear-witnesses" (?) as regards the happenings on that Easter week-end
some two thousand years ago.
The Christian plea is valid. Their logic is good. To entertain their
plea we will call up their witnesses and cross examine them to discover
the truth or falsity of the matter from their own authorities.
Admittedly, the key witnesses in the case are Matthew, Mark, Luke and
John — the alleged authors of the Canonical Gospels. But they have all
died and are in their graves. "Yes, that is true, but we have in our
possession their sworn affidavits!" says the Christian.
DEMAND FOR PROOF
When confronted by the extravagant and conflicting
claims of the Jews and the Christians to their exclusive rights to
salvation, Allah subha nahu wa-ta aala1 commands us
to demand for proof. He says:

(SURA BAQARA)Holy Quran 2:111
And they have produced the only proof they have; in over fifteen
hundred different languages! Eleven different dialects of the Bible for
the Arabs alone! Are we going to swallow them hook, line and sinker?
No! It is presupposed that when Allah commands us to demand for proof,
that we would be in a position to analyse the proof, once it is
produced. Otherwise, it makes no sense to demand for proof; it would be
nonsense!
1. subha
nahu wa-ta aala meaning, Glory Be To Him!