Crucifixion Or Cruci-Fiction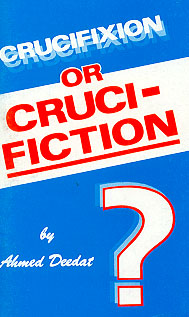 CHAPTER 4
PREPARATION
FOR JIHAAD
POLICY CHANGE
Jesus will not be a sitting-duck for a
clandestine arrest by the Jews. He prepares his disciples for the
impending showdown. Discreetly, so as not to frighten his disciples, he
introduces the subject of defence. Gently he begins:
"When I sent you without purse, and scrip, and shoes, lacked ye
anything?" And they said, "Nothing" Then said he unto them, "But now,
he that hath no purse, let him take it, and likewise his bag; and he
that hath no SWORD, let him sell his garment and buy one!"
(HOLY BIBLE) Luke 22:35-36
This is a preparation for Jihaad, a Holy
War — Jews against Jews! Why! Why this somersault? Did he not advise
them to "turn the other cheek"; "to forgive seventy times seven"
(70 x 7 = 490)? Did he not send his chosen Twelve with the advice:
"Behold, I send you forth as sheep in the
midst of wolves; be ye, therefore, as wise as serpents, (?) and as
harmless as doves."
(HOLY BIBLE) Matthew 10:16
TO ARMS! TO ARMS!
The situation and the circumstance have
changed and as with any wise and able general, the strategy must also
change. The disciples were already armed. They had some foresight. They
had not left Galilee with bare knuckles. They responded:
". . . Lord, behold, here are two
SWORDS." And he said unto them, "It is enough".
(HOLY BIBLE) Luke 22:38
The missionary, so as to retain the
impression of the "meek and gentle Jesus", "the Prince of Peace",
pleads that the SWORDS were spiritual! If the swords were spiritual,
then the "garments" must also be spiritual. If the disciples of Jesus
were to sell their SPIRITUAL garments to buy SPIRITUAL swords, in that
case they would all become SPIRITUALLY naked! Furthermore, one does not
lop off peoples physical ears with spiritual swords —
"And, behold, one of those who were
with Jesus stretched out his hand, and drew his SWORD, and
struck a servant of the high priests, and cut off his ear."
(HOLY BIBLE) Matthew 26:51
The only purpose of swords or guns is to maim and to kill. People
did not carry swords to pare apples and bananas in the time of Christ.
WHY COUPLE OF SWORDS
ENOUGH?
If this was a preparation for war, then why
should two swords be "enough"? The reason is that Jesus was not
contemplating a battle against the legions of Rome. Since his
"friend" Judas was in league with the Temple authorities, he was
expecting a clandestine, underhand attempt by the Jewish oligarchy to
seize him. It would be a question of Jews against Jews. In such a
battle against the Jewish temple servants and the riff-raff of the
town, he would prevail. Of that he was sure. He had with him Peter (the
Rock) and John and James (the sons of Thunder) together
with the other eight, each vying with one another to go to prison for
him; to die for him. 1 These were all Galilians. They had a reputation of
Zealotism, terrorism and repeated insurrections against the Romans.
Armed with sticks and stones, and the
swords, and fortified with the spirit of self-sacrifice which they had
avowed for their Master, he was sure to knock hells into any Jewish
rabble that dare confront him.
1. "Likewise also said all the disciples."- (Mathew
26:35)
A MASTER TACTICIAN
He had proved himself a skilful strategist
and planner, alert and resourceful. This was not the time to sit and
twiddle thumbs; to be a sitting-duck, cooped up with his disciples in
the upper-room! No, not for him. He leads his platoon, in the middle of
the night, to Gethsemane-Gethsemane — an olive press — a courtyard
built of stone walls some 5 miles out of town.
On the way, he unburdens to them the
seriousness of the situation. The implications and the explosive nature
of the coup that failed. Now he must bear the wrath of the powers that
be. The price of failure!
You do not have to be a military genius to
appreciate that, Jesus (pbuh) deploys his forces as a master tactician,
in a manner that would bring credit to any Officer out of "Sandhurst"1. He
places eight of the eleven disciples at the entrance to the courtyard,
commanding them:
"... Sit ye here, while I go and pray
yonder."
(HOLY BIBLE) Matthew 26:36
1. A leading military academy in England.
The question that would bug any thinker is:
"Why did they all go to Gethsemane? To pray? Could they not have prayed
in the upper-room? Could they not have gone to the Temple of Solomon, a
stone's throw from where they were, if prayer is all that they wanted
to do? No! They went to the Garden so that they might be in a better
position to defend themselves!
Observe, Jesus does not take the eight with
him to pray. He positions them strategically at the entrance to the
courtyard; armed to the hilt, as the circumstances would allow:
"And he took with him Peter and the
two sons of Zebedee. . .
Then saith he unto them. . .
tarry ye here and watch with me."
(HOLY BIBLE) Matthew 26:37-38
Where is he taking Peter and John and James
now? Further into the Garden! To pray? No! To make an inner line of
defence — he had put eight at the Gate, and, now these zealous Zealots
(the fighting Irishmen of their day), armed with SWORDS, to "wait
and watch " — TO KEEP GUARD! The picture is very vivid; Jesus
leaves nothing to our imagination. A-n-d HE (alone) prayed!
JESUS PRAYS FOR RESCUE

". . . and began to be sorrowful and
very depressed. Then saith he unto them, 'my soul is exceedingly
sorrowful, even unto death' . . ."
"And he went a little
further, and fell on his face (Exactly as the Muslim does in
Salaat), and prayed, saying, "O my Father, if it be possible, let
this cup pass from me; nevertheless, not as I will, but as thou wilt."
(This is the quality of a good Muslim who
submits his will to the will of God).
(HOLY BIBLE) Matthew
26: 37-39
"And being in an agony, he prayed more
earnestly;
and his sweat was, as it were, great drops of blood falling down to
the ground''
(HOLY BIBLE) Luke
22:44
MESSIAH
SOBS FOR HIS PEOPLE
Why all this bewailing and
lamentation? Is he crying to save his skin? It would be highly cynical
on his part to do that! Did he not advise others:
"And if thy right eye
offend thee, pluck it out . . . And if thy right hand offend thee, cut
it off, and cast it from thee; for it is profitable for thee that one
of thy members should perish, and not that thy whole body should be
cast into hell."
(HOLY BIBLE) Matthew
5:29-30
We would be doing Jesus a grave injustice if
we thought that he was crying like a woman to save his body from
physical harm. He was crying for his people — the Jews. They held a
queer logic, that if they succeeded in killing any would-be Messiah
(Christ), it would be a sure proof of his imposture. For God Almighty
will never allow His truly "anointed one" (Christ) 1 to be
killed — (Deuteronomy 18:20). Hence the insistence of the Jews
as a people, as a whole, in rejecting Jesus, the son of Mary, as their
promised Messiah — "The eternal rejection."
1. Messiah. "Anointed," Christos, "Christ." For
full explanation, see — "Christ in Islam."

IMAGINATIVE
VERSION
This harrowing sob-story, the
blood-curdling cries and lamentations would evoke sympathy in the
hardest of hearts. And the hot-gospeller and the Bible-thumper is not
averse to its effective exploitation. We are told that Jesus was
destined to die for the sins of mankind. That he was "being prepared
for this vicarious sacrifice before the foundation of the world". That
even before the material universe came into being, there was a contract
between "Father and son," and that in the year 4000 A.A. (After Adam)
1, God
himself in the form of Jesus, as the second person from the enigmatic
Trinity2, was to get himself hanged to redeem mankind from the
Original Sin and their actual sins.
1. According to Christian calculations the world and everything
in it is 6000 years old.
2. "Trinity": The closest approximation to the
Christian dogma of the trinity as found in the Bible — "For there
are three that bear record in heaven, the Father, the Word, and the
Holy Ghost: and these three are one" - (1st Epistle of John 5:7) —
has now been unceremoniously thrown out as fabrication in the R.S.V.,
the most up-to-date translation of the Bible. See — <!a href="http://www.jamaat.net/bible/BibleIntro.html">"Is the Bible God's
Word?"<!/a> for further Biblical interpolations.
JESUS
UNAWARE OF HEAVENLY CONTRACT
From the "call to arms" in
the upper-room, and the masterful deployment of forces at Gethsemane,
and the blood-sweating prayer to the God of Mercy for help, it appears
that Jesus knew nothing about the contract for his crucifixion. It
reminds one of the Biblical Abraham, leading his son to the slaughter
with the bluff that the Lord will provide a 'scape-goat.'
AN
UN-WILLING VICTIM
If this was God's plan for a
vicarious atonement to redeem mankind, then obviously He had chosen a
wrong substitute. This candidate was most reluctant to die. Arming!
Wailingi Sweating! Crying! Complaining! 1
Contrast these
responses with those of Lord Nelson, a war-hero, who gave up the ghost
with these undying words:
"THANK GOD, I HAVE
DONE MY DUTY!". There are millions today, who would happily
immolate themselves for king and country, with smiles on their faces,
with shouts of "Amandhia!" or "Allahu-akbar!" or "God save
the Queen!" Jesus was an un-willing victim. If this was God's
scheme of salvation, then it was a heartless plot. It was murder in the
first degree, and not redeeming self-sacrifice.
Major Yeats-Brown, in his "Life of a
Bengal Lancer", summarises the Christian Doctrine of the Atonement
in just a single sentence:
"NO HEATHEN TRIBE HAS CONCEIVED SO
GROTESQUE AN IDEA, INVOLVING AS IT DOES THE ASSUMPTION, THAT MAN WAS
BORN WITH A HEREDITARY STAIN UPON HIM: AND THAT THIS STAIN (FOR WHICH
HE WAS NOT PERSONALLY RESPONSIBLE) WAS TO BE ATONED FOR: AND THAT THE
CREATOR OF ALL THINGS HAD TO SACRIFICE HIS ONLY BEGOTTEN SON TO
NEUTRALISE THIS MYSTERIOUS CURSE."
3. "Eli, Bi, La'ma sabach'thani? ... Why hast thou
foresaken me?" For fuller explanation of this cry, see "What is His Name?"
GOOD
FOR EXPORT
"No heathen tribe!"
proclaims this Britisher. But the mighty nations of the West, live and
die by this "Fiction". If it is no longer fit for home consumption,
then it is still good for export! More than 62,000 full-time
missionaries (Modern-day Crusaders) are raising the dust throughout the
world. Harassing the "heathen" as they call them. Over 40% of these
cultists are "born-again" Americans!
1
Strange as it may sound,
after every outpouring of prayer, Jesus Christ found his disciples
lulled to sleep at their post. Again and again he bewailed:
"What could ye not
watch with me for one hour?" — (HOLY BIBLE) Matthew
26:40.
"And again he (Jesus)
went away, and prayed, and spoke the same words. And when he
returned, he found them sleep again …" — (HOLY BIBLE) Mark 14:39-40.

Poor St. Mark bemoans that
the disciples could give no excuse for their lassitude, their
somnambulism. He records:
"neither knew they what
to answer him", — (HOLY BIBLE) Mark 14:40
However, the most lucid, the
most coherent and systematic of all Gospel writers, St. Luke, hazards a
guess for this anomaly. He says:
"And when he (Jesus)
rose from prayer, and was come to his disciples, he found them sleeping
for SORROW."
(HOLY BIBLE) Luke 22:45
1. "Born-Again:" The latest cult among the Christians.
Billy Graham claims that there are 70 million such cultists in America.
Immaculate people, veritable angels! Yet in that nation over a quarter
million "gays" gathered in San Fransisco last June on a pilgrimage, led
by 50 lesbians on motorbikes. In New York, there are only one
million more women than men and of the "men" it is said that one third
are sodomites! Overall there are 10 million "problem drinkers"
(meaning DRUNKARDS), in the U.S.A. If all this is true with 70 million
veritable angels ("Born-Again") in their midst, then it gives a
lie to Paul's : "…a little leaven leaveneth the whole ..." — (1
Cor. 5:6). Here in the Christian West not even one third can ferment
the loaf. Strange!
UNUSUAL
REASONING
St. Luke, though he was never
one of the elected Twelve disciples of Christ, holds numerous
distinctions according to Christians. Among them, the "most
historical", the beloved "physician", etc. As a Physician,
his theory of men "SLEEPING FOR SORROW" is unique. Cries and waitings,
sobs and sorrows were in abundance from Jerusalem to Gethsemane on the
lips of Jesus (pbuh) which would shock and alert to wakefulness any
un-ebriated1 person. Why were the "lullabies" of woe, lulling the
disciples to slumber? Was their psychological make-up any different
from that of twentieth century man? Professors of physiology opine that
under shock, stress and fear the adrenal gland secretes a hormone into
the bloodstream — nature's own injection — which chases away all sleep.
Is it not possible that the disciples of Jesus had eaten too much and
drunk too much: remembering that food and drink was all "on the house,"
2, i.e.
FREE!
1. "Un-ebriated": a sober person, not drunk.
2. Note to translators: please do not attempt a literal
translation of English idiom and figures of speech.