Face to Face : Masrur of Paradise & Maqrur of Fire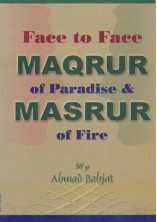 The Death of Masrur
After Masrur had finished his dinner and had taken too much to drink, he took another bottle of wine to his room and asked his maid to precede him. On his way to the room he felt dizzy and his nerves were gradually weakening. The bottle fell from his hand and it was ruined.
Masrur tried to lean on the door of his room but he felt an intolerable pain in his shoulder. The pain started to move from his shoulder to his hands then to his chest. It encircled his chest like a burning golden band. He then fell down on the floor and the maid cried out loudly.
In a moment the room was filled with maids and watchmen, and together they tried to carry him to his bed.
The most skilled physicians in the whole empire arrived, and they all gathered around his bed. The face of the master was as white as snow. He was snorting loudly while breathing as if someone was slaughtering him slowly.
The head of physicians said, "What a bad sign! The great master has lost consciousness."
In fact, he had not really lost it as they thought but his consciousness was somewhere else.
Masrur had felt the presence of someone strange in the room even before he entered it. There had been an unknown guest who bore no features. His face contained only warnings and threats.
Masrur asked him, "Who are you?"
The guest said, "I have come to offer you the inevitable cup, so put that bottle down."
Actually nobody could hear this dialogue. They could only perceive the falling of the bottle from his hands.
When the unknown guest gave the cup to the dying Masrur, he said, words that none could hear, "What does it contain?"
The guest replied, "Have not you understood yet? This is the inevitable cup of mankind, each soul shall taste death. This is the inescapable end. It is only a few seconds away and you will depart from this earth."
Hearing the words of the guest, Masrur was thunderstruck, he cried out in shock saying, "I do not want to die, not now, I beseech you, take all my property in return for only one month, one week, or even one more day."
The angel of death removed the veil, the face could be easily perceived and thus, Masrur started to suffer the agonies of death. He felt the great bitterness of the cup, he could hardly swallow.
The pulling out of the soul of Masrur from his feet was a grievous torment, the same as pulling out a thorny tree from a heap of wool.
The angel of death started to smite Masrur's face. After the second slap, the soul had reached the throat, where it resisted at its final gate; the mouth of the former great master.