A program Of Studies For new Muslims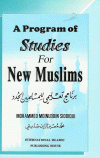 PART II
II: THE QUR' AN AND THE SUNNAH
II-100 AL-QUR' AN
Introduction
1.1 The nature of wayh; Jibril and his role; different hadiths concerning how wahy came to the Prophet.
1.2 The first revelation; the Prophet's distress and Khadijah's faith; interruption and resumption of
revelation.
The compilation of theQur'an.
TheQur'an'sTestimony about Itself.
TheMakkanand the Madinan Surahs.
The contents of theQur'an
5.1 The Unseen; legislation concerning permissible arid prohibited.
5.2 Muhkamat and mutashabihat.
5.3 Guidance of the Islamic movement; types of people (believers, rejectors, hypocrites, the rebellious, the thankless, those who love the world, the humble, the learned, the thankful, etc.).
5.4 Moral teachings; stories of the prophets and their peoples.
5.5 The general and the specific.
The Style of theQur'an
6.1 "Teaching" -repetition with variety; emphasis on the main themes; the whole truth.
6.2 God's word is similar to God's work. Inimitable -only God could do it.
6.3 God's speech addressed to man.
How to Read theQur'an
7.1 Reading for dhikr.
7.2 Reading for information or action.
Summary of theQur'anicTeachings.
Selections from theQur'an.
II-101 PRACTICE READING OF THE QUR' AN IN ARABIC
Emphasis on reading correctly.
Memorization of somesurahs.
II-102 TAFSIR
Principles ofTafsir
1.1 Words have meanings; far-fetched tawil can be mislead­ing; apparent meaning and principles of tawil.
Tafsirof al-Fatihah.
Tafsirof Selected Surahs from Juzu 30.
Tafsirof al-Baqarah, Ale-Imran, Al-Nisa.
II-103 AL-SUNNAH
The Importance ofSunnah
1.1 From the Qur'an, from the Hadith, from the Companions, from the fuqaha, from the imams.
Classification ofSunnah
2.1 Verbal (Hadith).
2.2 Action.
2.3 Approved.
Compilation ofHadith
3.1 The six Sahib's, and their compilers.
3.2 The difference between Hadith and Sunnah.
Classification ofHadith.
The Contents ofHadith.
Selections fromHadith.
II-104 STUDY OF HADITH
A systematic study of Hadith under the guidance of some know­ledgeable person.